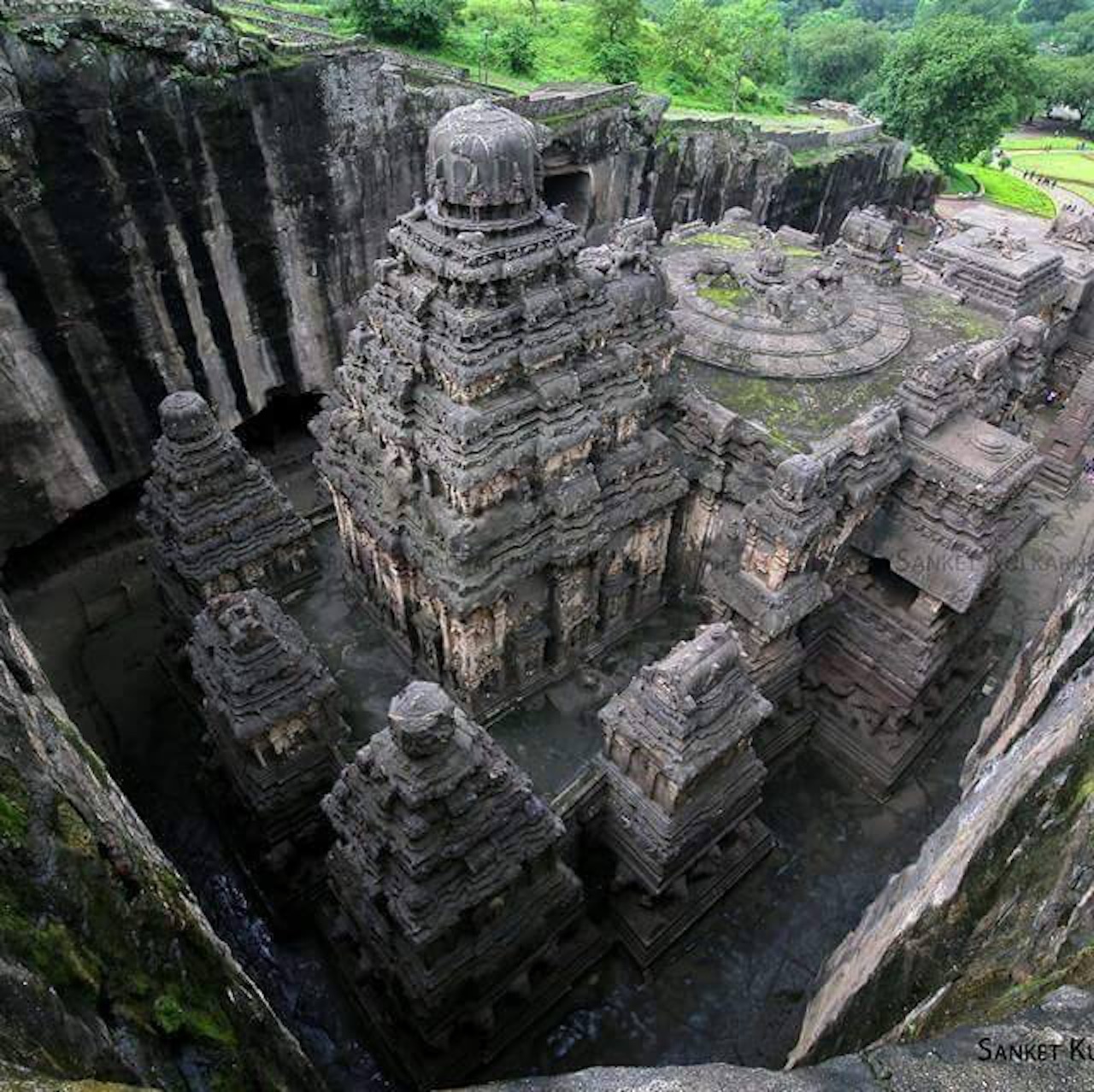 Shikhara of Kailash Temple, Ellora Caves, Maharashtra, India
If Ajanta exudes a still, unassailable peace, Kailash temple is a celebration of thunderous power reflecting the fearsome dance of Shiva transforming a free-standing monolith built top-down from living mountain rock.

When you actually explore the effect of Kailasha at Ellora in person it will seem not as a structure laboriously built over centuries, but as a miracle coalesced into being by the power of its own purpose.

The wall and the shikhara of the Kailash temple have been conceived in a manner that increases the verticality of the structure emphasized by the flying figures carved on the wall. The niche decorations leaping out help accentuate exuberance. How to reach Ellora Caves?

Late M. K. Dhavalikar prominent Indian historian and archaeologist's theory states that Kokasa was the chief architect of the Kailasa temple and he accomplished the impossible feat during medieval period of carving and sculpting a rock cut temple from the top down - so he could finish the shikhara of Kailasha within a week's time.

The local medieval legend mentioned in Katha-Kalpataru by Krishna Yajnavalki (1470-1535 CE) states that the local king was suffering from an unknown disease and his Queen, Manikeshwari prayed to the Shiva in the form of Grishneshwar - and pledged that she would construct a Shiva temple if her husband was cured. Once the king was cured she went on a nirjala fast until she could see the shikhar or the top of the proposed Shivalaya. (Nirjala means without a drop of water)

Most architects declared it to be an impossible task to build a Shikhara first or for it to built in days - Kokasa a talented young architect built the shikhara within 7 days so the queen could break her fast successfully. Kailash temple was then named Manikeshwar after the queen.

Kailash Temple, Ellora Caves, Maharashtra, India is recognized by UNESCO as a World Heritage Site. How to reach Ellora Caves?